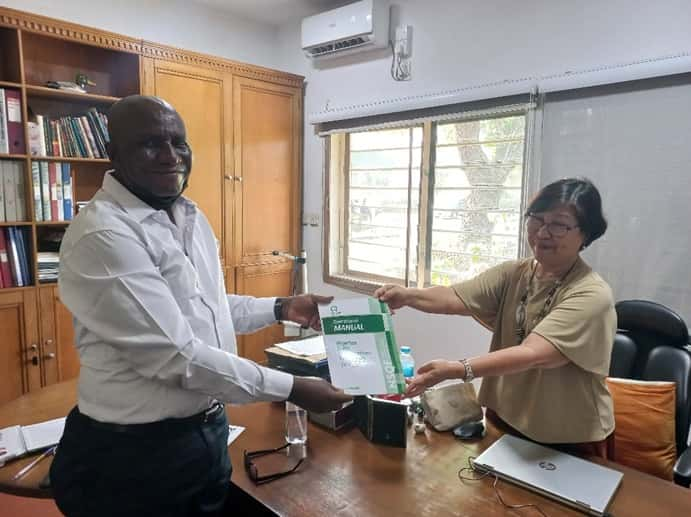 News and Events / March 1, 2022.
Minutes of Meeting with Engr. Bode Daniel Majiyagbe – Director, South-West Zonal Office, NBTE and the Management of Wavecrest College of Hospitality
News and Events / March 1, 2022.
Engr. Bode Daniel Majiyagbe had a brief meeting with the Management Team of Wavecrest College of Hospitality on Thursday 20th Janaury 2022 at 9.30 a.m. The aim of the meeting was to formally inform the College of the decision reached by the Executive Secretary Prof. Idris M. Bugaje and the Management of NBTE to establish zonal offices for NBTE in the geopolitical zones of the country.

He explained clearly that the aim of this new development is to bring the services of the Board closer to the Stake Holders and Institutions under the NBTE and to introduce the TVET (Technical and Vocational Education and Training) initiative of the Board to all Stake Holders concerned.

He reiterated that the main agenda for the Executive Secretary and his team is 'Skills, Skills, Skills' stating that accreditation of some Institutions may be put on hold until they adopt this skills frame work into their curriculum and have a clear plan of incorporating both their students, indigenes and youth of their immediate

Engr. Bode Daniel Majiyagbe presenting copies of the Operational Manual for National Skills Qualification Framework and 'Skills Not Degree' publication of the NBTE. to our Provost.

Finally he announced that the South-West Zonal Office is located in Lagos State at Yaba College of Education which is central and easily accessible.
The Provost of Wavecrest College of Hospitality – Rosana Forsuelo responded enthusiastically, stating that she and the Management Team are very happy with this new development as it is a clear and concrete sign that the NBTE is truly concerned about serving the Institutions under them better each time.

'Wavecrest College is also always at the service of NBTE being very involved in and promoting the NSQF' – Rosana Forsuelo. She also mentioned the fact that we already have an office dedicated to the NSQ in Wavecrest College.
The meeting was brief and to the point. It ended with Engr. Bode Daniel Majiyagbe presenting copies of the Operational Manual for National Skills Qualification Framework and 'Skills Not Degree' publication of the NBTE.


Secretary
Veronica Esode
Registrar Wavecrest College of Hospitality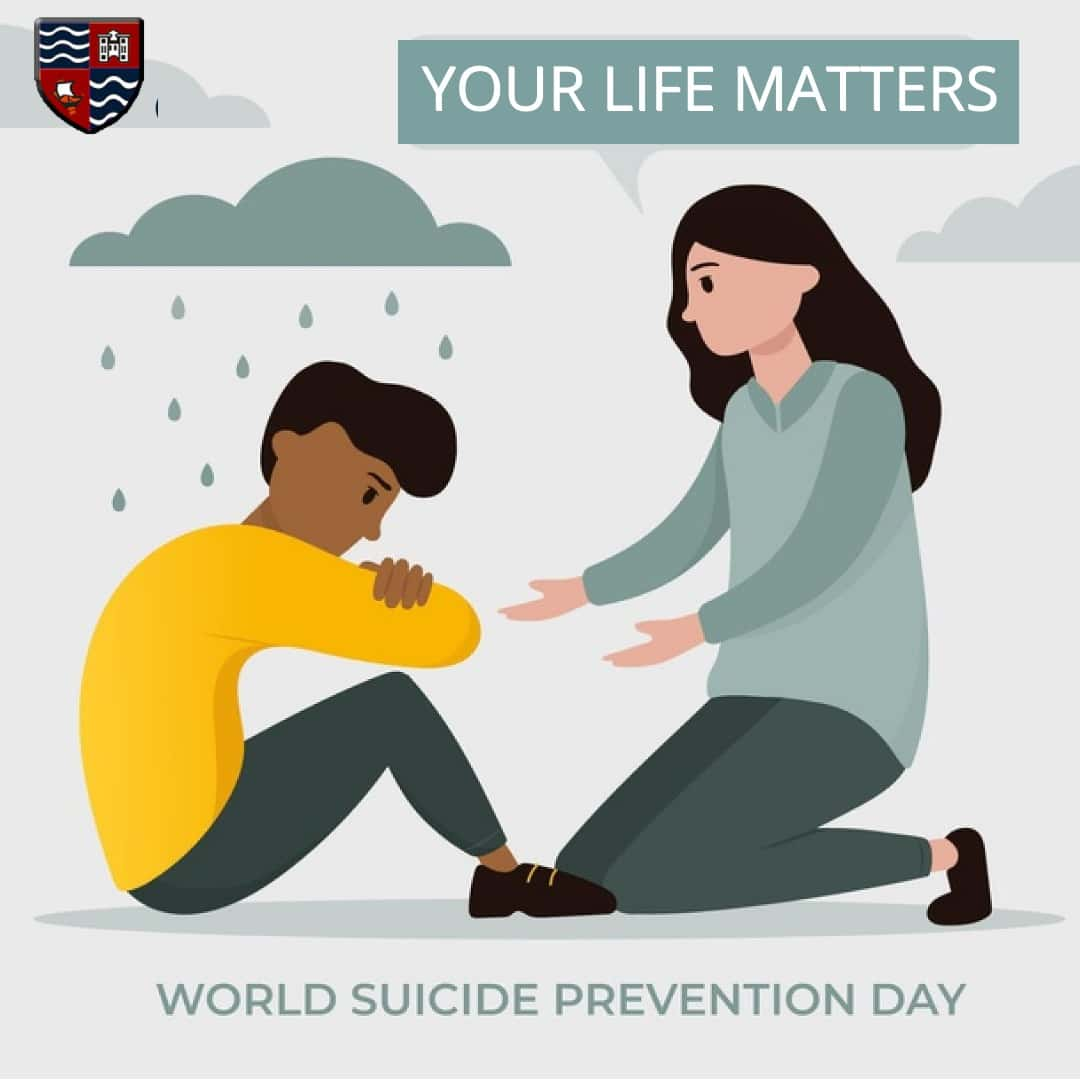 News and Events / September 10, 2022
World Suicide Prevention Day
News and Events / September 10, 2022
There is growing awareness of suicide as a major public health problem, even though there is a taboo in many societies against discussing openly. Worldwide Suicide rates have increased by 60% over the last 50 years, and the increase has been particularly marked in developing countries. Suicide occurs all over the world and can take place at almost any age.

Globally, suicide rates are highest in people aged 60 years and over. In some countries, however, the highest rates are found among the young. Notably, suicide is now among the three leading global causes of death among young people aged 15-34 years, the majority of suicides are reported in adults and older adults (60 years and older).

Pesticide poisoning, hanging and firearms are among the most common methods of suicide globally.

In Nigeria, Suicide is becoming a looming Public health problem and should be taken seriously.We remember popular cases that were reported of a man, a medical doctor who drove down to the third mainland bridge, parked his car, jumped into the lagoon, and died in 2019.

-A young man identified as Kelvin committed suicide at Modinatu Street in the Ogba area of Lagos.
-The lifeless body of Kevin who works with a new generation bank was found dangling from a ceiling fan, in his apartment by neighbors.
-Young Nigerian, creative designer and founder of Uhuru Designz, the United States of America-based clothing company, Izuchukwu Madubueze reportedly committed suicide Over Fake Rape Allegations that took place on Twitter in July 2020. He even announced his own death on twitter before his death.Sadly as we know these are not all the cases and some have not been covered by the media.

Suicides are Preventable!

"No matter where a country currently stands in suicide prevention", said Dr Alexandra Fleischmann, Scientist in the Department of Mental Health and Substance Abuse at WHO, "effective measures can be taken, even just starting at local level and on a small-scale"


Always Check up on friends and family.
Encouraging friends and families to always take mental health seriously and to see a counselor when it's necessary.
Responsible reporting of suicide in the media, such as avoiding language that sensationalizes suicide and avoiding explicit description of methods used, and early identification and management of mental and substance use disorders in communities and by health workers in particular
.
Social media has come to stay and some people are living fake lives. Don't compare your life with others because you don't know what they are going through and you may just be better off than them.
Follow-up care by health workers through regular contact, including by phone or home visits, for people who have attempted suicide, together with provision of community support, are essential, because people who have already attempted suicide are at the greatest risk of trying again.
Regular exercise, improve healthy lifestyle.
Reducing access to means of suicide is one way to reduce deaths.
Below is a few list of some Mental health Organizations we have:
African Mental Health Awareness & Care Initiative, Maiduguri
Mental Health Foundation, Nigeria
Gede Foundation, Abuja
UNIC Ikoyi
Source: WHO, Vanguard
Article written by Sheba Asuquo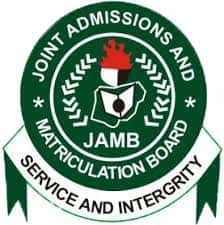 News and Events / January 25, 2021.
JAMB FORM IS NOW ON SALE!
News and Events / January 25, 2021.
JAMB form is now on sale!
Candidates can now proceed to register for the 2021/2022 JAMB examinations. Forms can be purchased at approved bank or CBT centers around you. (Click here for Jamb Official Website)

Looking to study Hospitality Management in a reputable Institution? Look no further than at Wavecrest College of Hospitality where we pride ourselves in offering students a robust holistic learning/training in Education, Economic Independence and Employment.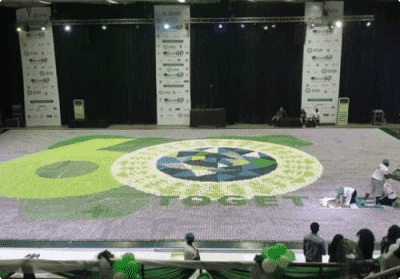 News and Events / October 8, 2021.
'The icing on the cake"…Wavecrest College of Hospitality Partners with Fly Africa Initiative to break Guinness World Record 2020
News and Events / October 8, 2021.
Featuring in the Guinness World Records is obviously not a yearly event. This is why Wavecrest College was excited to be a part of an amazing project partnering with the Fly Africa Initiative to make an official attempt to break the Guinness World Record to make the largest cupcake mosaic logo of 60,000 cupcakes to celebrate Nigeria's 60th Independence Anniversary in Lagos.

For those who may not know, Fly Africa is an initiative of Outori Limited created to inspire and educate Africans through live experiences, to rise up to their great potentials by taking actions that will move the African continent forward. Mr. Wole Olagundoye the Managing Director of Outori and the brain behind the 'Sweet 60' project visited Wavecrest College with his Team to conclude plans and logistics on how the tail end of the project will be executed. This last lap was indeed very crucial and needed to be handled by professionals and like minds who saw the vision of the project through his own eyes.

Choosing Wavecrest College; the place to 'Discover Hospitality' to partner in the project was indeed the best decision. Wavecrest College is the First Private Monotechnic in Nigeria specialising in Hospitality careers, with over 40 years of hospitality experience built on our solid core values of Teamwork, Respect for others, Industriousness, Personal responsibility, Integrity and Spirit of service.

The role of Wavecrest was mind-blowing – to prepare the butter icing, roll and cut out fondant icing of different colours needed to cover 60,000 cupcakes. 60,000 not 6,000! This indeed was a challenge for us but knowing the goal, we were ready to go any length in order to make it happen.

The College became a factory overnight with all hands on deck from the usual catering staff, to our students who joyfully volunteered. Even the Provost had her own quota of fondants to cut. It was another opportunity to witness our values come alive in real time as every member of staff took up the project like it was their personal business. It took 4 days working round the clock, swimming in shades of green, grey and white fondant, kneading and cutting 3 inches each of fondant, no more no less.

'Thank you for everything your team did to make this historical event a success. Your warm hospitality was second to none, your team members were awesome and dedicated and I am indeed proud to be associated with you.' This feedback from one of the Project Coordinators says it all!

At about 11 p.m. Wednesday night – 30th September, 2020 -, the gigantic-sized cooling van containing the last batch of meticulously labelled cake boxes especially those for the shimmering diamond design in the centre of the logo left Wavecrest College premises to Teslim Balogun Stadium. At that point, we could heave a sigh of relief because we knew we had achieved.

Wavecrest was part of 'the icing on the cake' the beauty that met the eye, for the 'Sweet 60' project, the Guinness world record breaking mosaic representing the beautiful and breath-taking 60th Anniversary logo of Nigeria's 60th independence anniversary.

We would like to appreciate Mr. Wole Olagundoye for giving Wavecrest College the opportunity to be a major part of the project and the penultimate site for the last lap of preparations. A man who can embark on a project like this in spite of the challenges of 2020 is obviously a person to reckon with. His resilience drive and optimism are second to none. Fly Africa has certainly lived up to its aim of showcasing African talent and solidarity as all parties involved played their role excellently well. The major sponsors and collaborators – Lagos State Government, Dangote Sugar, Graceco Foods -Baker's Choice and Golden Penny could not have been more supportive.

The other partners were a pleasure to work with here at Wavecrest College – Atinuke Soje of Nukkies Boutique cakes, Mr. Ajayi of U & I cakes, Mrs. Toyin Naiwo of EventsPedia and indeed all the amazing volunteers. With this display of team spirit, we are very hopeful that our dear country Nigeria has a brighter future.

'Cheers to Sweet 60'.

Baptista Uwandu Wavecrest College Marketing Personnel, Mrs. Toyin Naiwo EventsPedia, Mrs. Helen Eboigbe
– Wavecrest College Development Committee.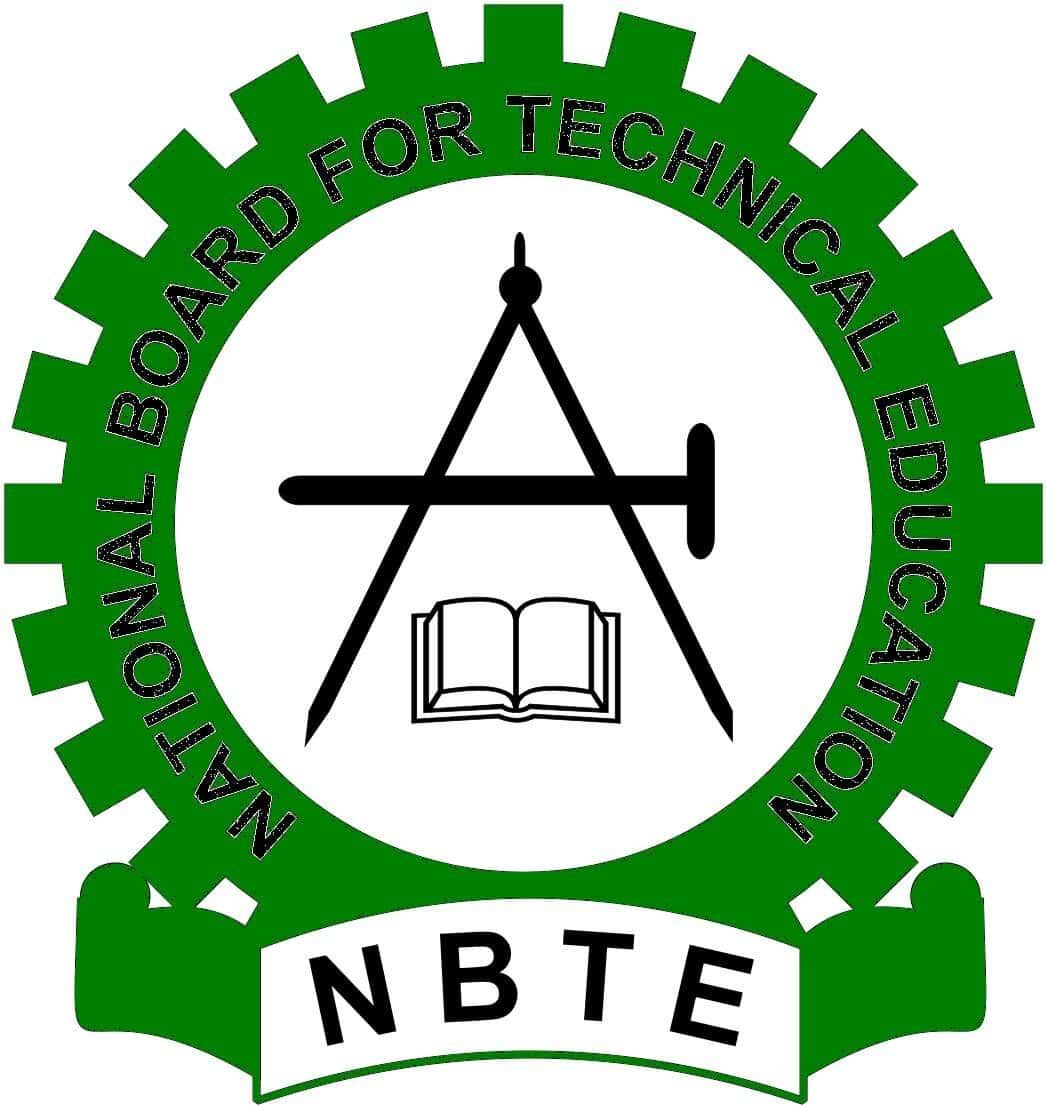 News and Events / January 25, 2021.
NSQ PROGRAMMES AVAILABLE
News and Events / January 25, 2021.
There are lots of different NSQs to choose from, which are regularly being reviewed and updated. They are available in five sectors i.e hospitality and tourism, power/energy/engineering, building construction, service and agro-processing as giving in the table below;

The NSQ system – Who does/do what

Sector skills councils: identify, define and update employment-based standards of competence for agreed occupations. These people effectively represent the interests of the trade or industry concerned, to which the particular NSQ relates. Sector Bodies define what the job entails. For government led sector skills council, the composition should be 70 % industry/ employers and 30% trade unions, professional associations, academia etc.

Awarding bodies: design assessment and quality assurance systems, and gain sector bodies endorsement prior to submission to NBTE for accreditation of the qualification. Awarding bodies approve training and assessment centres to offer NSQs. implement and assure quality of the NSQs . Awarding Bodies are basically the top-level training certification organisations (the ones whose names and logos are on the certificates). They don't deliver the training, they design the structures of the qualifications and accredit the certification, which the training organisations and Assessment Centres use and deliver.

Awarding Bodies engage with client organisations if they are large enough to have their own NSQ training and delivery departments. Awarding bodies engage with Sector Bodies and training organisations. Training organisations are effectively distributors of the Awarding Bodies' qualifications systems.

They undertake external verification to ensure that candidates are being assessed fairly and consistently across all centres.

Regulatory Body: NBTE accredits proposals for qualifications submitted by awarding bodies, and monitors Awarding bodies offering NSQs. NBTE effectively manages the whole system on behalf of the Government.

Assessment centres: assess NSQs according to Awarding body criteria.

Training providers: deliver NSQ training in partnership with the industry, register candidates, assess and guide candidates towards achieving NSQs.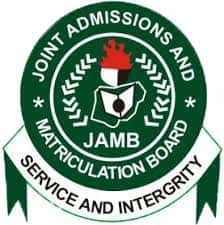 News and Events / May 14, 2021.
New Admission Requirement for National Diploma
News and Events / May 14, 2021.
The Unified Tertiary and Matriculation Examination board has approved new admission requirement for Wavecrest College.

This approve now allows the college to accept more subject combination from JAMB candidates.

See the new subject combination accepted by Wavecrest College in JAMB for 2 years National Diploma below

Entry Requirements

Five (5) credit passes in SSCE/NECO/GCE
Compulsory Subjects Include:
Biology/Agricultural Science/Health Science/ Food and Nutrition/Catering craft practice

In addition, to four (4) of the following:
Physics,
Chemistry,
Mathematics/ Statistics,
Geography,
Food and Nutrition,
Economics/Commerce,
Technical Drawing,
English Language/Literature in English,
Home Management/Catering Craft/Home Economics,
Computer studies/Information Technology,
Food & Nutrition,
Marketing/Business Management,
Financial Accounting,
Government/History,
Civic Education,

UTME REQUIREMENTS
COMPULSORY: ENGLISH LANGUAGE,
Any three subjects from: Biology, Chemistry, Physics, Geography, Mathematics, Principles of, Accounts, Economics, Agricultural , Science, Commerce, Home Economics, French/Literature, Government/History.

How To Apply
Fill the Wavecrest Application Form online
Return for the current UTME
Log on to the UTME website
Click on Private Polytechnics/Monotechnics And select Wavecrest College of Hospitality
Note that your 1st choice can be an ND Awarding Institution
Choose Wavecrest College as your FIRST CHOICE for NATIONAL DIPLOMA in Hospitality Management
Complete the registration process